Did you hear about Ruby Chocolate?
It was big news in the world of chocolate. A new type of chocolate was born: the Ruby chocolate and its pink color. We can see it everywhere and the press is talking more and more about it. Created by the Swiss chocolate company Barry Callebaut, it started a big buzz and nobody really knows exactly what it is. Is it a new cocoa species? Chocolate with red berries? Is it natural or artificial? We can read everything and its contrary. Here is what we know and that seems to be the truth about the Ruby Chocolate.
Ruby Chocolate: It all started back in 2017
The Swiss Chocolate maker Barry Callebaut created a big buzz back in 2017 when he announced the creation of natural pink-colored chocolate that he would name "Chocolat Ruby" or Ruby Chocolate. This Swiss chocolatier owns the famous Cacao Barry brand, world n ° 1 in cocoa, and would have obtained this unusual color by using only cocoa beans of a special variety called "Ruby". Without coloring or flavoring added, this novelty would be according to its creators "the fourth type of chocolate", after dark, white and milk chocolate.
Today Barry Callebaut is commercializing Ruby chocolate in different manners and they have a whole catalog of products made from this new type of chocolate and they have also made consumer studies showing the interest of this new variety of chocolate.
What is Exactly Ruby Chocolate?
Like grapes for fine wines, cocoa beans are influenced by the terroir in which they grow. Ruby cocoa beans are grown in Ecuador, Brazil and Ivory Coast as they have similar environments. To find the right beans Barry Callebaut developed a test that can identify if the sourced beans meet the required specifications to produce the 4th type of chocolate, ruby chocolate. More than 10 years ago, one of Barry Callebaut cocoa experts discovered that components of certain cocoa beans could produce chocolate with an exceptional flavor and color.
To unlock the properties of the ruby bean and create ruby chocolate, the full production process from the cocoa bean to the ruby chocolate is carefully managed. Fermentation, temperature, conching time and the acidity level are key process parameters.
For any type of chocolate, the process and the different steps of manufacturing are key for the end result. You cannot find chocolate per say in nature. We obtain chocolate after a complex manufacturing process that unlocks the colors and the flavors that are naturally present in the cocoa beans. This is key. To call it chocolate no artificial ingredients are allowed.
"RUBY CHOCOLATE IS THE BIGGEST INNOVATION IN CHOCOLATE IN 80 YEARS. MADE FROM THE RUBY COCOA BEAN, IT'S A COMPLETELY NEW CHOCOLATE EXPERIENCE". – BARRY CALLEBAUT
Barry Callebaut bring natural ingredients together during the process of ruby chocolate making. No berry flavor, nor pink color or any colorants are added. Obviously Barry Callebaut will not reveal the secret recipe to produce this chocolate but there are still some things we did find. When you have a look to the patent, here is what we discover:
Patent number: US9107430B2
Inventors: Arnaud Dumarche Philippe Troplin Herwig Bernaert, Paul Lechevalier, Herve Beerens, Alex Landuyt
Current Assignee Barry Callebaut AG
Abstract: he invention relates to acidified cocoa nibs, wherein the nibs comprise at least 20 mg/g of polyphenols, preferably more than 30 mg/g of polyphenols, most preferably from 40 to 60 mg/g of polyphenols, cocoa refiner or expeller flakes, liquor, cakes, and cocoa powder obtainable from the nibs and a process for producing cocoa-derived material, comprising the steps of (i) treating cocoa nibs obtained from beans or seeds which have a higher polyphenol content than fermented cocoa beans with an acid; and (ii) optionally drying the nibs.
You can see the full document here: https://patents.google.com/patent/US9107430B2/en
It seems that Barry Callebaut uses citric acid in order to reveal color and flavor. It is a very well know effect. We all add lemon juice to meals and desserts in order to unlock extraordinary flavors. Citric acid is naturally present in a large variety of fruits and vegetables.
According to standards set by the Food and Drug Administration, ruby chocolate must contain a minimum of 1.5% nonfat cacao solids and a minimum of 20% by weight of cacao fat. It may contain antioxidants, spices, and other natural and artificial flavorings, however, these ingredients cannot mimic the flavors of chocolate, milk, butter, or fruit, and it cannot contain additional coloring.
Let's be clear. The cocoa bean plant utilized to produce Ruby Chocolate is not a new variety or species than the ones already used to produce Dark, Milk, or white chocolate. The selected cocoa beans to produce ruby chocolate have the specific natural characteristic that after a determined manufacturing process unlocks certain color and taste.
What Ruby Chocolate taste is like?
Ruby's fruitiness and slightly sour profile unlock creative ideas for confectionery, cakes & pastries, biscuits and many more. And with its all-round fluidity, ruby chocolate is perfect for a wide range of technologies, ranging from confectionery molding and enrobing, to pastry mousses, etc.
The chocolate is characterized by a taste that has been described as slightly sweet and sour, which is comparable to that of berries, as the chocolate's main characteristic is its acidity.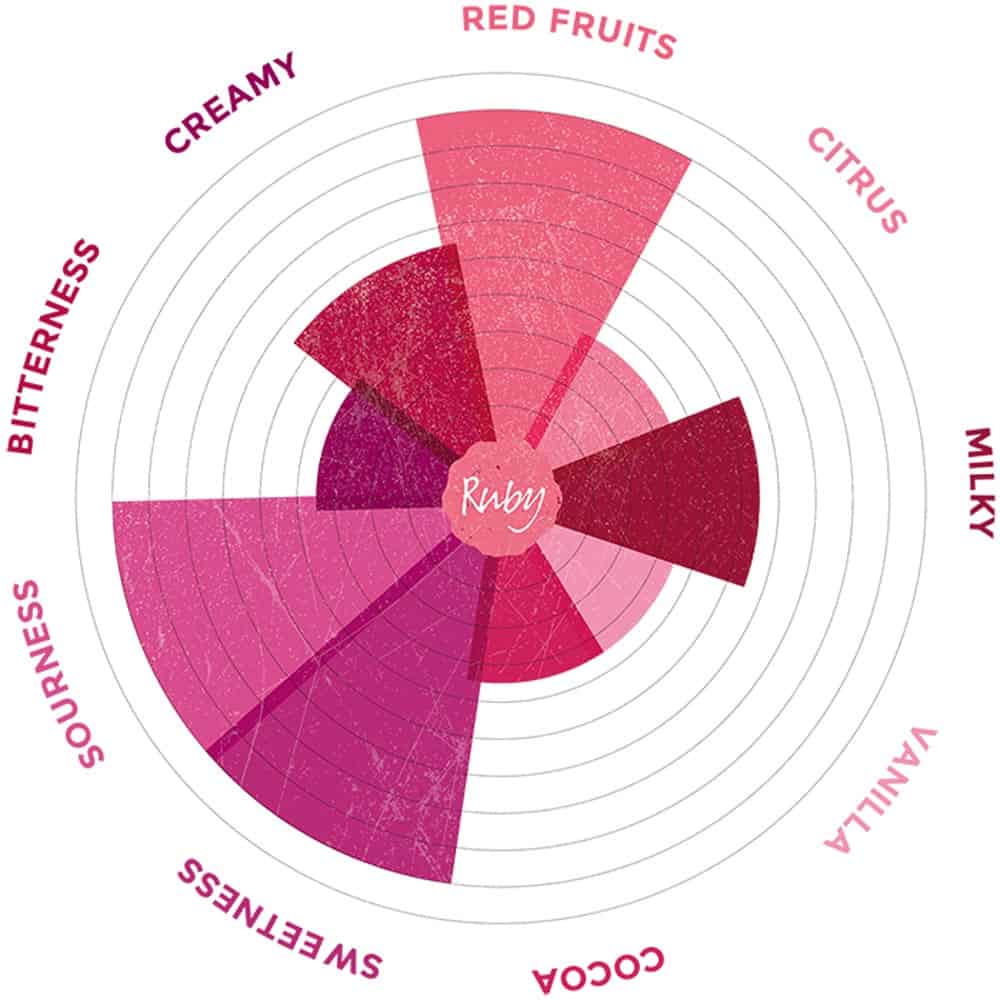 Ruby chocolate's delicious, intense berry flavor also works well with the most unusual combinations. From salted caramel, spices like pepper, or herbs like rosemary, to unexpected ingredients like wasabi or exotic fruits such as lychee or mango, the possibilities are endless. Food lovers will be delighted with the variety of dishes and drinks that ruby chocolate can accompany: bold cheese like Roquefort or Camembert, caviar, rosé champagne and wine, fruity beers, and even green tea or saké.
Iconic Chocolate Brands Are Launching Products Based In Ruby Chocolate
Innovation was always a massive focus in the food industry. Therefore brands started getting interest in this new variety of chocolate. The first big hit for Ruby chocolate was KitKat in Japan and South Korea. Nestlé decided in 2018 to launch a new variety of KitKat, all pink. It was a big hit in those markets.
In the beginning of this year, another tremendous brand announced the release of a ruby chocolate variant of one of its iconic products: the Magnum ice cream. The world wide renowned ice cream bars are now dipped in a ruby chocolate cover.
Chocolate is by far one of the most consumed ingredient in the world, either in chocolate bars, desserts and derivative products. Now the Chocolate industry can count with a fourth variant that will add an additional pleasure to the palate. >>>SOURCE: luxuryactivist.com.