Finish be damned, Harold Varner III won the week
What constitutes a win? If it's public sentiment, the medalist is Jordan Spieth, his long-awaited revival the light that sparked weekend excitement at the Charles Schwab Challenge. Should publicity be the barometer. For those of literal interpretations, the spoils belong to Daniel Berger, who put on the royal tartan after defeating Collin Morikawa in a playoff at Colonial.The Full article at golfdigest.com.
True as those successes may be, they are, to varying extents, ephemeral. Fingers crossed, there will be another plaid jacket awarded next week in Hilton Head, more headlines to be grabbed in Connecticut, emotional storylines to follow at Detroit and Columbus and Memphis. Yet triumph is something that eclipses time, that can't be conveyed on a leader board. In golf's return from a three-month sabbatical, it is Harold Varner III who leaves as its champ.
The man known as HV3 didn't notch his first PGA Tour win. Didn't even log a top 10. Varner, who has struggled on the final day throughout his career—118th in fourth-round scoring, 75th last year, 151st in 2018—labored again on Sunday, a two-over 72 dropping him to T-19. No need to sugarcoat it; there are no moral wins, not at this level.
Besides, Varner's ultimate standing did not and does not matter, his win secured long before teeing off Sunday.
From a performance standpoint Varner, 29, is a rank-and-file tour pro. He entered Colonial No. 124 in the Official World Golf Ranking; he boasts a lone top-three finish in 129 tour events. That's not a slight; being an "average" tour pro is a pretty damned good existence. But Varner is not your average pro: He is one of just four players with African-American heritage out of the tour's 260-plus membership. Varner, fair or not, sticks out. Especially against the world Americans are seeing outside their windows and through television screens.
No matter who you are and where you fall on the social spectrum, there's no denying this reality. That includes golf, a sport whose slow-play issues have extended at times outside the ropes. The game is often deliberate in its response to social matters. But after the first weekend of protests against systematic inequality and police brutality that gripped the nation, Varner weighed in.
He
penned
 a letter, two pages, addressing the killing of George Floyd and the fallout the brutality evoked. It was personal, detailing his life and upbringing as a poor black man in a rich white sport. It was universal, speaking to the questions this country is reckoning with.
"Sometimes life is not simple and things don't make sense. How can we call ourselves the greatest country on earth when our standards fall to senseless killing?" Varner wrote. "That's a tough and important question. But I still proudly say we aren't as fractured as it seems."
It was eloquent and passionate, offered perspective and understanding. Above all else, it was courageous, a giant stride outside his comfort zone. He is disarmingly nice, kind and one of the better trash-talkers on tour. But, publicly, he likes to keep a low profile. A low profile these times would not grant.
"All of a sudden it was 'Harold should say something because he's black.' I don't like when people are like, just because you're black you know the answers to racism," Varner said earlier this week. "So that letter was super good for me because it let me expose that even like you were telling white people they need to listen right now, black people need to listen right now, too, and we need to come together and figure out what it is."
And if that was that, Varner would be a hero. His words helped galvanize the rest of the sport to speak up, to speak out, to not feel encumbered for doing so. All four days of competition at Colonial, the PGA Tour stopped for a minute of silence at 8:46 a.m. local time, in memory of Floyd and the conversation his death sparked. Difference, made.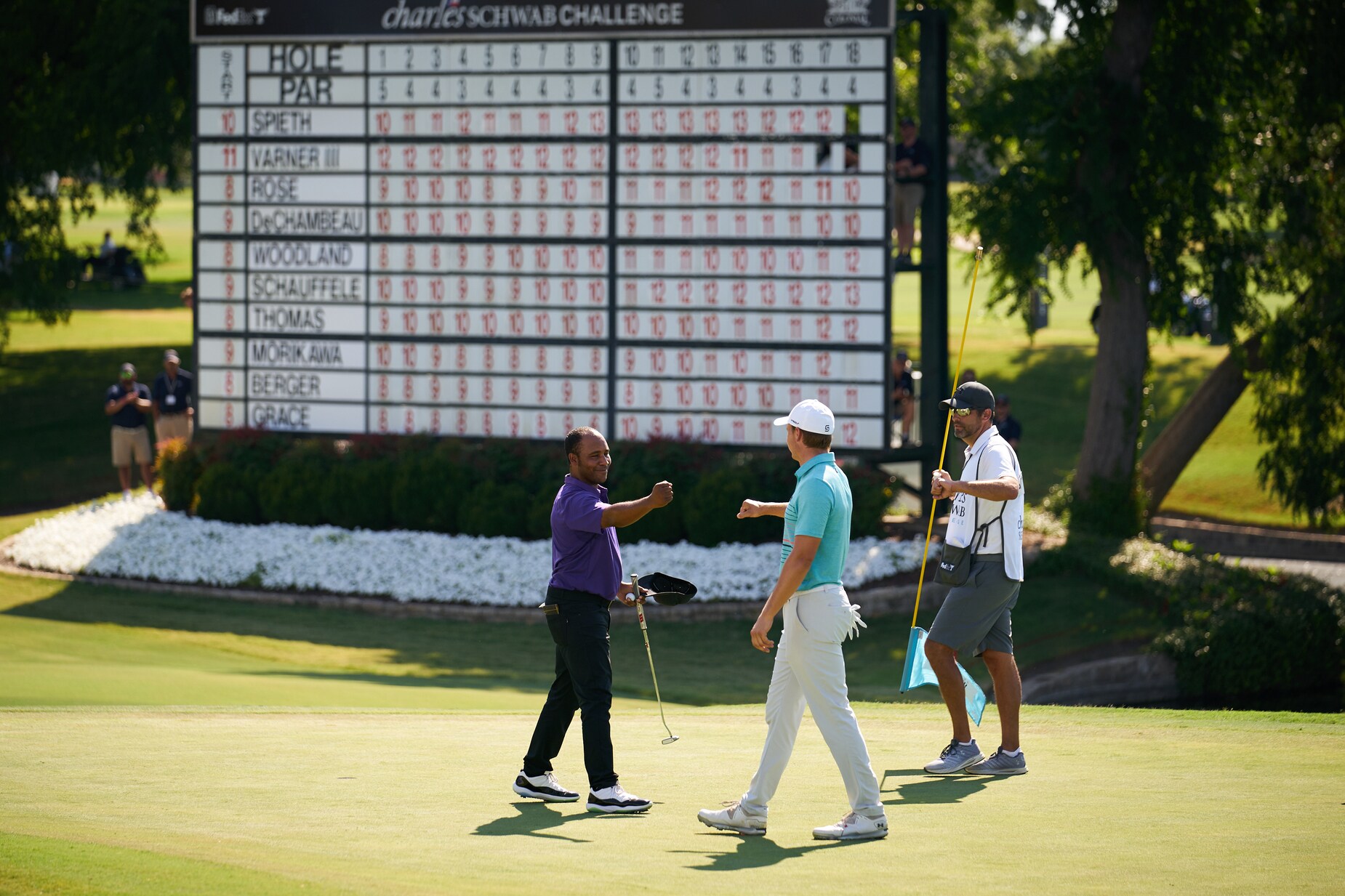 Darren Carroll for Golf Digest
Then the most remarkable thing happened. Varner, at a juncture where the lines of sport and society are blurred, turned in a seven-under 63, taking the opening round co-lead at Colonial. He proved it was not a one-day wonder, hovering near the top of the board on Friday and Saturday and setting the stage for a scene reserved for movies.
Varner did his best to downplay the spectacle, acknowledging the spotlight while not jumping in it. "When I get on the golf course, it's been very businesslike," he said Saturday. "I just kind of handle what I can do … If I'm worried about something else, then I'm probably not going to have a good outcome I don't think." The Hollywood ending didn't come to pass, his only birdie coming at the opening hole. But an ending that didn't diminish the story.
Yes, it's just a tournament, unimportant in the grand scheme of things. But in chaotic times, sports are mistakenly devalued, overlooking the fact that they are one of the few mechanisms with the power to unite. With his words and resolve, with a performance that can only be measured against the pain and uncertainty and fear we all face, Harold Varner showed us the best that golf can be.
And a reminder that not all wins come with, or need, a trophy. The Full article at
golfdigest.com
.