The 6 Best Places That Have Luxury Restaurants You Can Eat In
Fine dining at the most luxurious restaurants across the globe may come at a price. However, what you get for the high price tags are exceptional dining experiences, which can take you to an underwater culinary experience or to a beautiful castle-like restaurant.
Whether you want to enjoy exclusive getaways from KOALA or wish to try different cuisines from various parts of the world, these following places are not just known as the best travel destinations, but also for their luxury restaurants where you can enjoy tasty courses paired with wines.
France
There are several luxury restaurants in France. One of these is the popular Maison Pic in Drome, France. The 3-star Michelin restaurant is managed by the known Chef Anne-Sophie Pic. Her 9-course menu is worth $375, which frequently includes Mediterranean rouget in saffron broth.
Another luxurious restaurant in France can be found in the city of love, Paris. Whether you're out on a business lunch or just want to try something spectacular, Plaza Athenee is a work of art restaurant, where diners may sit within the stainless steel shells below the chandeliers made of crystals. The menu focuses on eco-friendly and healthy food. Once you dine in this restaurant, expect to pay around $170 to $228 for just an entrée. For the dessert, the price starts at $52.
Spain
Packed with amazing attractions and countless activities to do, Spain is known for its rich culture and Spanish cuisines. One of the luxury restaurants in Spain is found in Ibiza and popularly known as SubliMotion. This 12-seat luxury restaurant charges more than a thousand dollars for its 20-course dinner.
The restaurant is under the management of Paco Roncero, a Michelin-starred chef, known for offering ultra-sensory experience to all diners. Open during summer season, the restaurant has a menu, which changes yearly. In previous years, diners have enjoyed touches like edible entrance tickets, DIY salad that guests pluck from the table-scape, and shells that show off different kinds of seafood cooked in their juices.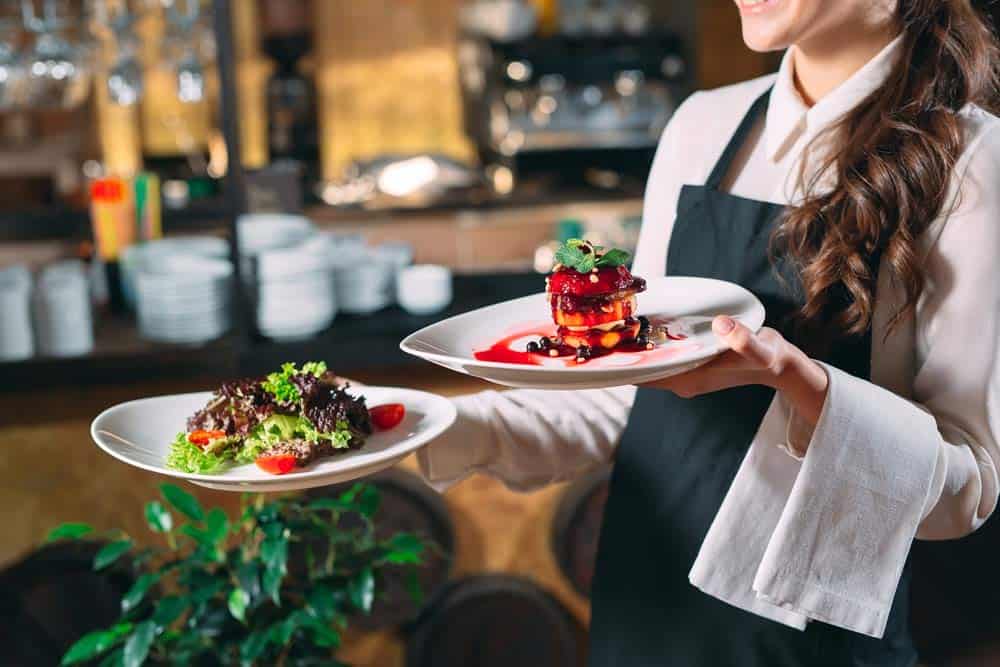 Switzerland
Switzerland is home to countless villages, lakes, and high peaks of the Alps. But, it is also known for its cuisines. One of the best restaurants where you can enjoy a great dining experience is Schloss Schauenstein. It is a luxurious restaurant located in Furstenau, Switzerland. Rated with 3-Michelin stars, it provides a rare dining experience where you can enjoy local cuisines at a luxurious Swiss Castle. Headed by the popular Chef Andreas Caminada, the restaurant's six-course menu costs $259.
If you want to enjoy a sumptuous French cuisine in Switzerland, another luxury restaurant is Restaurant de l'Hôtel de Ville. This 3-Michelin star restaurant has the most decadent menu option with 11 courses at $400. Diners can enjoy a fillet of muscles and lamb with saffron. The price can go up once you add a bottle of wine.
Japan
Known for its Mt. Fuji, Japan has more things to offer and one of these is their luxurious restaurants. Kyoto Kitcho Arashiyama is a luxury restaurant established in 1948, which is known for its amazing surroundings to provide diners a luxurious dining experience worth remembering. It provides a 10-course menu that comprises the best ingredients available. The restaurant's meticulous attention to detail can be seen in their presentation of cuisines. Usually, a dinner costs $449 and lunch starts at $359.
Another restaurant in Japan known for its expensive menu is Aragawa. Located in Tokyo, this marbled wagyu, particular, the premium Sanda variety, draws beef and meat lovers around the world. The prices may range from $261 to $313 if you order from its prix fixe menu.
Maldives
It's a dream country for many beach lovers or for those who are looking for a paradise-like destination. But, did you know that one of the most luxurious restaurants in the world is located in Maldives? Popularly known as Ithaa Undersea, it is considered as the first undersea restaurant in the world, which allows you to dine 5m below the ocean's surface with a panoramic view of the majestic coral garden.
Basically, guests are served with 6-course lunch and dinner menus, which feature a contemporary European cuisine that is matched with fine wine that blends local flavors with Western influences. The meal in this restaurant costs $320. The restaurant can be accessed by the guests of Conrad Rangali, a 5-star resort in Maldives.
New York
Known as the city that never sleeps, New York is also popular for its best restaurants. If you are looking for something luxurious, you can dine at Masa. This Japanese restaurant is located in Manhattan and established by Chef Masa Takayama. It offers a great dining experience that costs $595, which does not include taxes and beverages. The reservations in this restaurant are accepted three weeks prior to dining. Some of the best food in this restaurant includes Kobe beef and truffles.
Per Se is another luxurious restaurant in New York City, wherein diners can enjoy a temple of haute cuisine at $325. However, reservation in this restaurant can be tough, but it is worth the hassle because you will experience the signature oysters and pearls of Thomas Keller with 8 other dishes without any ingredients repeated.
Conclusion
Eating at the most luxurious restaurants may mean paying an expensive price tag, but it's worth everything as you'll pay for something that you won't find from other restaurants. No matter what your preferences when it comes to cuisines, you can be assured that there will always be a perfect luxury restaurant that you will enjoy. Just make sure to do your homework first before you book any of the restaurants mentioned above for you to make the most of your luxurious dining experience. Read the full Article at luxuryactivist.com.