Threads.. All what you need to know about "Twitter killer" app
Meta is set to release a rival to Twitter on Thursday, a social media app called Threads. It is billed as a "text-based conversation app" that is linked to Instagram, with the listing teasing a Twitter-like microblogging experience.

Meta has good timing because Twitter users are growing frustrated with Elon Musk's changes and looking for a viable alternative, said Matt Navarra, a social media consultant.
Will Threads be free to use?
Is this Meta's Twitter clone?
Is Twitter at risk from Threads?
When did Meta start making Threads?
Where is Threads available?
How soon will Threads be available? 
Can I use my Instagram username? 
Could this hurt Twitter? 
Instagram users will be able to keep their user names and follow the same accounts on the new app, according to screenshots displayed on the App Store listing. Meta declined to comment on the app.
The new service, which is available for pre-order in Apple's App Store and will be released on July 6, has a similar appearance to Twitter, with screenshots of the service showing messages with replies from other users.
One screenshot of the app indicates that Instagram users will be able to immediately click to follow the same accounts on Threads, which could help users quickly build large follower bases. 
On social media, some users are referring to Threads as a "Twitter killer" because of the expectation that many people will migrate away from Twitter in favor of the new social media service. 
"Threads is where communities come together to discuss everything from the topics you care about today to what'll be trending tomorrow" the description on the App Store says.
Pictures show screengrabs from the app, that look almost identical to Twitter.
Threads will also hoover up data on your phone, including location data, purchases and browsing history.
And here is all what you want to know about meta new App (so far):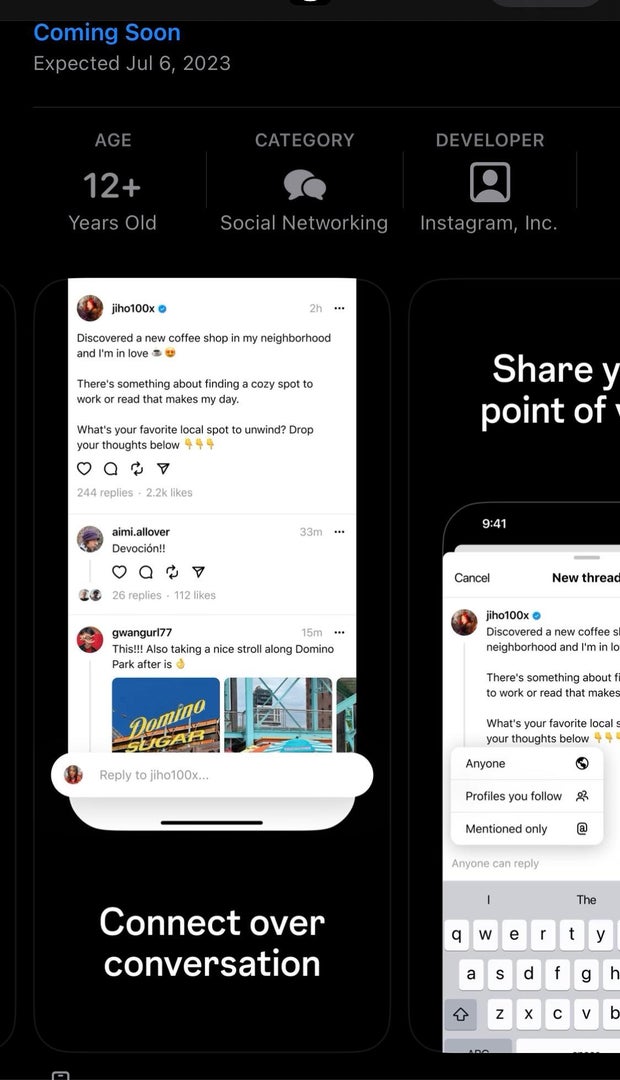 Will Threads be free to use?
Threads will be a free download, but will likely offer the same Meta Verified service that launched for Facebook and Instagram in the UK in May. This costs £9.99 a month when bought on a website, or £11.99 directly through the respective iOS and Android apps, thanks to the cut Apple and Google take on app payments.
This verifies your identity and promises "proactive account monitoring" for spoof accounts claiming to be you.
It sounds a lot like a pure Meta equivalent to Twitter's contentious Blue sub, but it has caused much less of a fuss on Instagram.
Is this Meta's Twitter clone?
The app is billed as an Instagram service, but images posted in Threads' App Store listing look more like Twitter than the video- and photo-driven platform, Instagram.
Threads is billed as a place where you can "follow and connect directly with your favorite creators and others who love the same things."
In a screenshot of the service, it appears to have a similar interface as Twitter, enabling users to "like," "reply" or repost other people's messages.
Is Twitter at risk from Threads?
The volatility of Twitter has led many users to look for a new platform that could replace it. At the weekend, owner Elon Musk announced limits on the number of tweets people were allowed to view each day.
For non-Twitter Blue subscribers, the limit was 600 posts a day, and only 500 for new users. Limits of 6,000 viewed tweets for paid users were introduced too, which Musk says is to combat "data scraping and system manipulation".
Tweets might be scraped to teach an AI bot how to tweet more persuasively or realistically, for example.
When did Meta start making Threads?
Meta confirmed it was working on a Twitter alternative to The Verge last month, and said coding for the app began in January.
"We've been hearing from creators and public figures who are interested in having a platform that is sanely run, that they believe that they can trust and rely upon for distribution," said Meta chief product officer Chris Cox.
He claims Oprah Winfrey and the Dalai Lama were among the leading figures who have expressed an interest in the platform.
Where is Threads available?
The app is available for pre-order in Apple's App Store. It's also available in the Google Play store.
How soon will Threads be available? 
The service is teased as "expected July 6."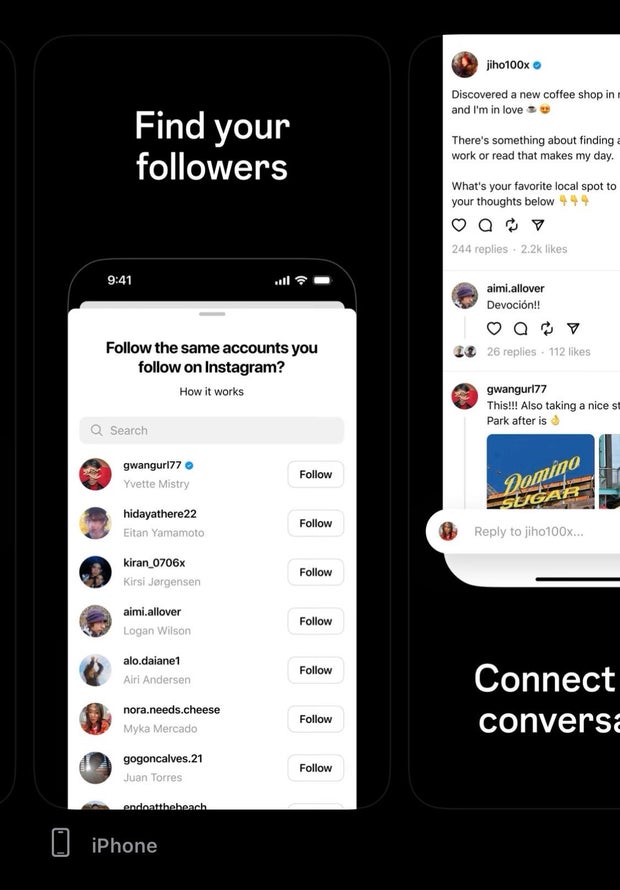 Can I use my Instagram username? 
Yes, the Threads app says you will be able to "keep your username."
Could this hurt Twitter? 
Some Twitter users are expressing enthusiasm about the new Meta product on social media. 
Meta's new social media app could lure consumers away from Twitter by providing a free service without the issues that are now overhanging Musk's tech company. Since Musk bought Twitter last year, the platform has seen a spike in hate speech and was rated by the advocacy group GLAAD as the worst social-media service for protecting LGBTQ+ users from harassment.
In its latest tweak, Twitter said Monday that it will require users to be verified before they can use the online dashboard TweetDeck, a service that is popular with corporations because it allows users to manage multiple accounts from one app. 
The new policy takes effect in 30 days and appears to be aimed at raising extra revenue because users need to pay to have their accounts verified under Musk's changes.